Yes it's time for another tag, this time all about the vast array of drinks that come out in the fall. I loved answering all of these questions… although I also now really want to go and try out a few of these delicious sounding drinks. Admittedly I'm not the biggest fan of coffee – I find it too bitter in general – but I have quite liked the odd latte in the past so as long as the flavouring, and not the coffee, takes center stage I think I could see myself quite liking some of these drinks.

Also sorry if I still need to read your recent posts or answer your comments. I'm trying to balance getting everything posted on time, preparing for Christmas and catching up on everybody else's blogs too but I am getting there.
Thank you so much to Rukky @ Eternity Books  and Kaya @ A Fictional Bookworm for tagging me. Please do check out both of their pages, they're really wonderful and have some absolutely fantastic content.
Rules:
Link back to the original post (hint, it's this one!)
Thank the person who tagged you
Do the prompts below
Tag some friends
Most importantly – have fun!
Pumpkin Spice Latte:
A book you didn't think you'd love
Obviously I thought I'd enjoy The Man Who Didn't Call, otherwise I wouldn't have picked it up, but I was surprised by how much I ended up loving it. The plot was a lot more twisty than I'd anticipated and it definitely went to show me that I need to take a few more chances when it comes to picking up different books.
Hot Apple Cider:
A book that got you a bit hot under the collar
I loved getting to see Dimitri in Blood Promise and it was pretty hard not to get caught up in Rose's lusty haze. So really what better choice for this question is there?
Peanut Butter Hot Chocolate:
A book that felt like a warm hug
Why do I always struggle on questions like this? Why do I not read 'warm hug' books? I have them on my TBR… I just never get around to picking them up. Okay I'm really stuck so I'm going to have to go with Harry Potter again, this time The Philosopher's Stone. It's definitely a warm hug kind of book as it's the one that started off this beloved series in the first place. It introduces the wonderful world of magic and I just love it so, so much. Next year I will definitely make an effort to read more warm, upbeat books :L
Maple Pecan Latte:
A book you enjoyed that was hard to get into
I'm not sure why but I struggled to get into The Ruby In The Smoke several times before I finally picked it up, read the whole book and actually thoroughly enjoyed it by the end. So why'd I struggle? I have absolutely no idea. I will say that if you also struggled with the first book though give it another chance or else try one of the later ones; once I hit book three I literally couldn't put these down.
London Fog:
A vanilla character
Once again I'm struggling; I can think of characters that I didn't like but not anyone that I'd particularly consider to be 'vanilla'. Possibly because they're so average that I've forgotten about them? So I'm just going to go with the closest answer that I can think of and that's the killer from The Pact. I'm not going to name, names because spoilers and they weren't 100% vanilla but when you try to look at them as a killer? Yeah…much too vanilla and unlikely.
Hot Buttered Rum:
A book that was velvety smooth to read
As far as I'm concerned Stepsister was absolutely velvety smooth to read with it's beautiful writing and glorious morals. I'd happily pick it up again this instant to be honest.
Pumpkin Cream Cold Brew:
A character whose temperament is icy cold
Beira from Wicked Lovely immediately came to mind when it comes to this question. Firstly she's definitely icy cold in terms of temperament but she's also the Winter Queen which surely gets her bonus icy points?
Salted Caramel Mocha:
A book that you're salty about
I'm going to take an entirely different angle on this question and pick a book that I haven't read yet but I feel gets a lot of unfair hate. Why haven't I read it? Because it's not even out yet. The book I'm talking about is Chain Of Gold and I know that it also gets a lot of love but I personally don't understand the hate. Is it yet another Shadowhunter book? Yes. But if you don't like the series or number of books then just don't read it. Why complain about it without even giving it a chance? Yes Cassandra Clare has numerous series within the Shadowhunter world but she's still written less books than there are in some other series. Plus some are in different periods of time which I think is amazing. So yes I'm salty about this book but not because of the book itself, it's much more about some of the negativity that I see towards it. Basically if you don't like it, don't read it.
Honey Bee Latte:
A character who is sweet
It's been a while since I've read the books so maybe I'm completely mis-remembering but I think that Bonnie from The Vampire Diaries was pretty sweet? The book version of her anyway. Don't get me wrong I loved her in the show as well but she was much more fierce and powerful in that. Whereas in the books I think she was kind of baby-bird like and protected by others. But like I've said I could be wrong.
Gingerbread Latte:
A character you'd take home for Christmas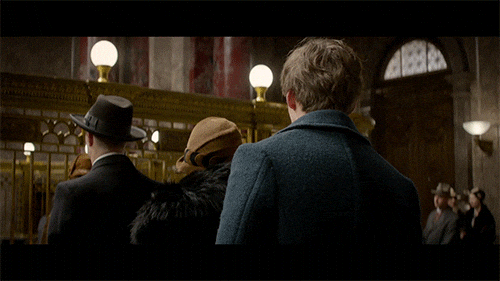 I answered this question on a Christmas tag, that I'm not sure if I'll get around to posting or not as I'm so behind right now, but I picked Newt Scamander and even though I haven't read the Fantastic Beasts books I have to pick him. He's just perfect to take home for Christmas. He's just…Newt; come on, wouldn't you want him home for Christmas too? He hasn't got a bad bone in his body, he loves animals, he'd definitely bring some fascinating magical creatures with him, he's adorable and it would mean that magic was real! So 100% Newt.
---
I'm not going to tag anyone as it's such a busy time of year – and I have another award tag coming up that I want to mention some people in – but if you want to do this tag then definitely feel free to do so. It's such a wonderful tag to do and I had so much fun with it.